Propylene glycol is a common additive found in many processed foods. While it has been deemed safe to consume, some people may have concerns over its presence in their food. In this article, we will explore the foods that contain high amounts of propylene glycol and discuss what health risks may be associated with consuming them. We will also offer tips on how to avoid eating too much propylene glycol if it is a concern for you.
Foods Containing Propylene Glycol
Propylene glycol is a synthetic compound used in a wide range of applications, including food processing. Some common foods that contain propylene glycol include ice cream, salad dressing, baked goods, and processed meats. In ice cream, propylene glycol is used as an emulsifier to prevent the formation of ice crystals and improve texture. In salad dressing and sauces, it functions as a thickening agent to give them a creamy consistency.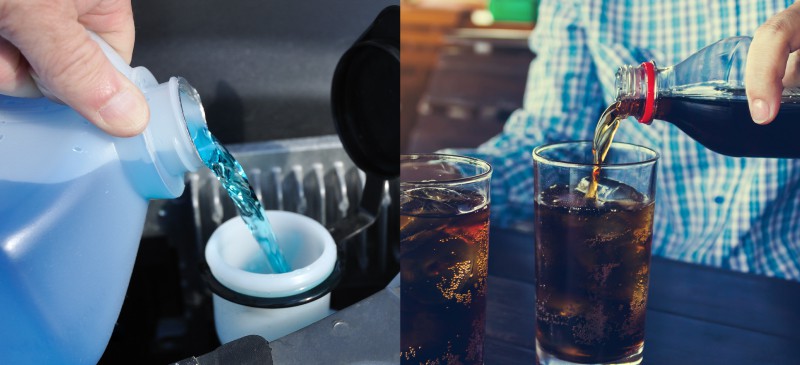 Baked goods such as bread and cakes may also contain propylene glycol to help keep them moist and extend their shelf life. Processed meats like sausages can contain propylene glycol as well because it helps retain moisture during cooking and prevents the meat from drying out. While these foods are considered safe for consumption by regulatory agencies like the FDA when consumed in moderation, individuals with certain sensitivities or allergies should be cautious when consuming products containing propylene glycol.
Health Benefits of Propylene Glycol
Propylene glycol is a colorless and odorless liquid that is widely used in food processing, cosmetics, and pharmaceutical products. Despite its wide range of applications, propylene glycol is largely known for its health benefits. For instance, it acts as a humectant and helps to keep foods moist. It also has antimicrobial properties that help to preserve the freshness of food products.
When it comes to foods high in propylene glycol, there are several options available. Some common examples include baked goods such as bread, cakes, and pastries. These typically contain small amounts of propylene glycol that help to extend their shelf life while maintaining their texture and flavor profile.
In conclusion, while propylene glycol may not be the most well-known ingredient when it comes to food products, it offers significant benefits both in terms of preserving freshness and enhancing taste and texture. So next time you're enjoying your favorite bakery item or other processed food product, you can thank this versatile ingredient for helping to make your snack more enjoyable!
Risks of Eating High Levels of Propylene Glycol
Propylene glycol is a synthetic liquid commonly used as an additive in food, cosmetics, and pharmaceuticals. Some foods that are high in propylene glycol include processed meats, salad dressings, baked goods, and some types of ice cream. However, consuming high levels of propylene glycol can pose several health risks.
One of the main risks associated with consuming high levels of propylene glycol is liver damage. Propylene glycol can accumulate in the liver over time and cause inflammation and scarring. This can lead to liver failure if left untreated.
Another risk associated with consuming high levels of propylene glycol is respiratory issues. Exposure to high concentrations of this chemical has been linked to respiratory irritation and asthma-like symptoms. Ingesting large amounts of it may also result in headaches and dizziness.
It's important to read labels carefully when purchasing food products or cosmetics that contain propylene glycol. While it's generally considered safe at low levels, consuming too much can have serious consequences for your health.
How to Reduce Intake of Propylene Glycol
Propylene glycol is a commonly used food additive that can also be found in personal care products and medications. It's often used to help maintain moisture, prevent freezing, and enhance texture. While the FDA has deemed it safe for consumption, some individuals may want to limit their intake due to potential health concerns.
One way to reduce your intake of propylene glycol is by avoiding processed foods and opting for whole foods instead. Many packaged snacks, baked goods, and frozen meals contain this ingredient as a preservative or thickening agent. Instead, try incorporating fresh fruits and vegetables, lean proteins, and whole grains into your diet.
If you're concerned about your exposure to propylene glycol through personal care products or medications, consider talking to your healthcare provider or using alternative products that do not contain this ingredient. Some natural skincare brands offer propylene glycol-free options, while prescription medications may have alternative formulations available.
Food Sources with Alternative Options
Propylene glycol is a synthetic substance used as a food additive to maintain moisture in various processed foods, such as cake mixes, salad dressings and soft drinks. However, it has been linked to certain health concerns and some people may want to avoid it in their diet. For those looking for alternative options, there are several natural sources of moisture-rich foods that can be used instead.
One great option is fresh fruits and vegetables. These are packed with nutrients and offer many benefits for overall health while also providing moisture to recipes. Another alternative option is coconut oil or milk which can be used as a natural emulsifier in place of propylene glycol. Finally, yogurt or other dairy products like cheese or cream can also add moisture while providing an array of health benefits such as protein and calcium.
Overall, although propylene glycol is commonly found in processed foods, there are plenty of alternatives available for those who prefer not to consume it. Experimenting with natural ingredients like fresh produce or coconut oil/milk can lead to delicious new creations that are both healthy and flavorful.